Halloween Menu
---
Network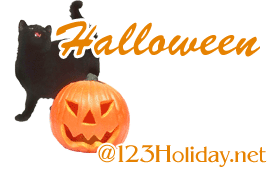 Halloween Costume Ideas
Post-It Note: Cut out two - three foot square pieces of cardboard, glue a yellow large sheet of posterboard to one side of the two boards. Then take a sponge and using a light grey paint, apply a light coating across the top 1/8 of the one board to represent the sticky glue. Then using a magic marker, write a short note on the front ide of the one board. Use string to attach the two sides together to wear.

---
Sherlock Holmes: Get a brown cape, a vest, white slacks and a magnifying glass, the sleuth hat.

---
Tacky Man/Woman: Just butt UGLY, mismatched clothes (polyester and patterns are a plus).

---
Buy Halloween Costumes Online!
Buy Halloween Props & Signs!
Buy Adult Halloween Costumes!
Buy Baby Halloween Costumes!
---
Cowboy/Cowgirl: Jeans, western shirt, boots, western hat, neckerchief and bandanna.

---
Scare Crow: Add patches to jeans and flannel shirts, add straw to cuffs of pants and shirt (duct tape will allow you to attach straw to under side of pants and shirt).

---
Gypsy: Get a scarf for your hair, a shawl and a puffy blouse with a flowing long flower print skirt.

---
Betty Rubble: Wear a black wig done "Betty" style, take a blue halter dress and cut the length with a pair of scissors so that the ends are jagged. Wear a bow in your hair. Glue a small rock to the top of the halter dress.

---
Bam-Bam: Using leopard skin material, cut out a diaper size piece of cloth for the waist. Cut a ragged edge and then use the same material to make a sash for the shoulder. Use a dog's rubber bone for the back. Use hot glue to attach at the rear. Cut a card board circle and glue on a circle of material. Use bobbi-pins to attach to the hair.

---
Ghosts: Sheets - make sure to cut big holes for eyes.

---
Buy Halloween Costumes Online!
Buy Halloween Props & Signs!
Buy Adult Halloween Costumes!
Buy Baby Halloween Costumes!
---
Mr. Potato Head: Fill a burlap bag with old shirts or rags. Using felt, cut out the eyes, nose and mouth. Attach Velcro to the backs of these items. Use fiber- fill to stuff the parts. Then attach the Velcro backs to the suit. Use black sweat pants or leotard for legs.

---
Magician: Wear a black tux jacket, black pants, white dress shirt, Top hat and stuffed bunny for your tricks.

---
Old Man/Women: Old looking clothes, glasses, old shoes, and cane. Use a bulky purse and for that added touch, use baby powder for grey hair. (Use very lightly and apply in an open area, not recommended for people with respritory sensitivities)

---
Hobo: Large men's pants, large dark sports coat, shirt with patches and a stick with a bandanna. Adults can burn a cork and when charred blow out the cork and then use this charred area for a scruffy look.

---
Mummy: Take white sheets, tear up into long strips and wrap them around the body.

---
Witch: Black clothes, cape, witch's hat and broom. (Dye an old sheet for the cape).

---
Football Player: Those who have an older brother or father who played football in high school or college can use their uniform. Use foam inside the helmet to make it fit properly, use the teams sweatshirt underneath. Use black tape under the eyes for that touch of the real game.

---
Zorro: Black clothing, black hat, mask (for the cape - dye an old sheet black) and a red scarf wrapped around the waist.

2010 Halloween Costumes

I Dream of Jeannie: Use a tube top for the top, and cut off a red vest for the jacket. Use baggy pants that can be dyed pink and an old pair of ballet shoes.

---
Black-eyed pea: Draw a large black letter "P" on a plain white T-shirt. Use black makeup to make smudges under eyes. You are a black-eyed pea now!

---
Judge Judy: Use a graduation robe and dye it black. Wear a curly wig and a lace trimmed blouse under.

---
Nerd: High-water pants (FLOODS), white shirt, bow tie, white socks, black shoes and dark-frame glasses with masking tape around the nose piece. For that extra touch, use a pocket protector.

Spirit Halloween Coupons


---
Grape Vine: Use a brown body suit and shoes. Cover your body with double sided sticky tape. Then fill up purple balloons and attach the balloons to the double sided tape. You may use a garbage bag tie to attach the balloon to the double sided tape. This is preferred if you are going outside in the wind.

---
Bunch of Grapes: Dress the child in clothes that match the color of the balloons. Blow up the balloons and with small safety pins attach them all over the body. Make sure you don't restrict either movement or visibility.

---
Pat (From Saturday Night Live): Get a Western shirt 2 sizes too big. Stuff yourself with rolled up newspaper. Use polyester pants that are brown and 2 sizes too big. For the stuffing on the pants, use multiple layers of foam. Use military style glasses. Black curly wig.

---
WICKED WITCH: Use a black choir robe or old black dress from Salvation Army Thrift Store. You can buy black satin and make a caftan.

---
WOLFMAN: Slash up old clothes to wear. Get some brown fur and cut it up and glue it on hands and neck.

BuyCostumes.com Coupons


---
QUASIMODO: Cut up burlap to make simple tunic or use old bathrobe. Use old clothes from thrift or second-hand store.

---
GORILLA: Use an old black fur coat as a base. Cut up black upholstery for accents. Use black gloves for hands.

---
COUNT DRACULA: Make a cape out of one square yard of black satin. Use an old black suit for the clothes. Make a white vest from a bed sheet.

---
ALL SPACE ALIENS: Use turtle neck sweaters with tight pants. Use old bathrobes. Drape yourself in a tie-dyed bed sheet. Glue sequins and felt designs on old suits with Elmer's glue.

---
DEVIL: Use red clothes or red tights and leotard or robe. Use red body paint.

---
AUTOPSY: Tear up old clothes and splatter red paint on them.

---
CREATURE FROM THE LAGOON: Use green leotards or a wet suit or green body paint.

---
OLD MAN OR WOMAN: Use old clothes. A man can use a black coat and cane. A woman can use an old long dress.

---
FRANKENSTEIN: Use an old green coat and black pants. Slash up the coat with a razor blade and slap red paint on it.

---
CONE HEAD: Use pajamas or regular clothes. Make a cape from a material remnant.

---
ROBOT: Wrap yourself with tinfoil. Get an old set of coveralls and spray them silver.

Search the web: